For more information on the wide variety of areas concerning science and technology where I have been involved, visit the Futurescience home page. If you want to see a more deeply autobiographical page about me, see my additional biography page.
For nearly 8 years after receiving my degree in electrical engineering from the University of Colorado, I worked for the Ampex Corporation, the company that invented the video tape recorder. During most of that time I was a test engineer, developing test procedures and designing test interface equipment for their professional audio products. I wrote all of the test procedures for the electronic sub-assemblies (as well as the final system test) for the ATR-100, which was the last major innovation in analog audio tape recorders. I also did some engineering work on the production testing of Ampex professional video recording equipment.
From August 1978 until January 2008, I worked as a radio and television transmitter engineer, most of that time as Transmitter Supervisor, for the ABC affiliate in Colorado Springs. I worked atop Cheyenne Mountain, just outside of Colorado Springs. (I never worked inside of this famous mountain, but I have been inside of it on two different occasions.) I have driven to the summit of Cheyenne Mountain more than 4,000 times, and I still do work as an electronics consultant atop that mountain several times a year.
I now have a multi-faceted career operating two separate one-person businesses. I do science writing and editing for my one-person company called Futurescience, LLC. which is now primarily devoted to distributing advanced information related to preventive medicine and healthy life extension.
I have a very large amount of scientific information on the futurescience.com web site on the subject of nuclear electromagnetic pulse. I have been editing some books related to electromagnetic pulse.
I do electronics consulting through a one-person company created in 2008 called Transmitter Maintenance, LLC. There was very little work to be done in this area in years 2009-2013 because most smaller and mid-sized broadcast stations in the United States were just letting their transmission equipment deteriorate and become quite fragile. This situation was forced on the broadcasters because of the severe expense mandated by the Federal Communications Commission in requiring television stations to operate both analog and digital television stations simultaneously for many years, while having only a single revenue stream for both costly operations. (This is very much analogous to a hypothetical situation where you would be "given" a second house, but would be required to pay the mortgage and maintenance on both houses while having only the same one job that you always had.) The broadcast industry situation finally got into a considerably better position in 2014, although the FCC is now threatening to take away many of their broadcast channels.
Futurescience, LLC also still provides a very limited amount of support for the hundreds of superconductor kits that were produced from 1991 to 2006 by the old company Futurescience, Inc. These superconductor kits are still in use in universities around the world. Since none of these kits have been produced since early 2006, though, the need for customer support has pretty much gone away.
From 1999 through 2004, I co-authored the information in the nationally-distributed page-a-day Easy Answer Science Calendar. Many of my entries were also in subsequent calendars. Those calendars were produced and distributed by Accord Publishing, which is now a division of Andrews-McMeel (and their products are now distributed through Simon and Schuster). I was also the original webmaster for Accord Publishing when they first started their web site, and continued as webmaster for the first years of the web site's operation.
I also developed the Storm Watch weather forecasting unit, which was sold nationally by Accord Publishing for many years (along with a story book, which I did not write). The product went on the market in about 1990. There were originally a large range of science experiments that were designed to be performed with the manometer in the device that I called the "Air Balance;" but cost constraints forced Accord to eliminate most of those very educational science experiments (along with capabilities that were actually built in to the device as sold, but never revealed to the user).
---
I have a considerable amount of information on needle phobia, which is a major medical problem, on the Needle Phobia Page at needlephobia.com, which I started in 1997. Nearly a quarter of the population in industrialized countries now has needle phobia that is bad enough to cause them to avoid at least some needed medical care. You can see why one single person maintaining the world's only dedicated Needle Phobia Page can become both exhausting and a significant financial drain. I may not continue that endeavor much longer.
---
I am a Wikipedia editor who has made more than 600 edits on more than 50 different articles on Wikipedia. I have also started several new articles on Wikipedia over the past few years. My Wikipedia name is X5dna.
---
As a college student, I successfully predicted, 45 years ago, in an article in an economics journal, the chaos and inefficiency that would be caused by the continued control of the broadcast spectrum by the Federal Communications Commission. See The Freeman, Ideas on Liberty, Vol. 19, No. 10, October 1969. I would phrase the problem using much different words if I were writing the article today (especially the title), but the basic principles that I discussed in the article remain the same.
---
In May 2008, I had more than one million points on my DNA decoded by the DeCodeMe division of Decode Genetics in Iceland. Then in November 2008, I had another scan of nearly 600,000 points done by a company called 23andMe. I am in the process of getting about 50 million of my DNA base pairs sequenced (in the exome, or coding regions of my DNA). I will probably have that information in late March of 2018.
You can see many of the results of that DNA scan linked from my personal DNA page. The information that I have online includes a detailed outline of health risks using Promethease software. These DNA scans (technically known as single nucleotide polymorphism scans) may not be very useful to most people, but I have already found the information enormously valuable to me.
My experiences as a genomic early adopter have been used in at least three medical journal articles:
McGowan, et al., Department of Bioethics, Case Western Reserve University. Personal genomics and individual identities: motivations and moral imperatives of early users. New Genetics and Society. September 1, 2010; 29(3): pp. 261-290. (I am quoted three times in this article, but only identified as User 17.)
Do, et al., Web-Based Genome-Wide Association Study Identifies Two Novel Loci and a Substantial Genetic Component for Parkinson's Disease. PLoS Genetics. June 23, 2011. 7(6): e1002141. doi:10.1371/journal.pgen.1002141 (My genome is not specifically mentioned in this article, but was used in the genomic data. My paternal grandmother had Parkinson's Disease in her 80s, and it was presumed to be the cause of her death.)
I was one of more than 20,000 customers of 23andMe who participated in the self-reported data used in the medical journal article in the Public Library of Science: See: Tung, J.Y., et al., Efficient Replication of over 180 Genetic Associations with Self-Reported Medical Data. PLoS Genetics. August 17, 2011. 6(8): e23473. doi:10.1371/journal.pone.0023473
Since then, 23andMe has used my data, along with hundreds of thousands of others, in many other scientific reports.
More about my personal DNA information can be found at http://www.futurescience.com/dna.html.
Much of the reason for me becoming a genomic early adopter was a desire to find a genetic variant that was causing males in my family to have severe osteoporosis in their later years. DEXA scans showed that I was rapidly developing osteoporosis in my 50s. I expected the search to take many years searching among the more than 3 billion base pairs in human DNA. I got very lucky, though, and found a problem in my aromatase gene within a few months of downloading my DNA raw data from DeCodeMe. I ordered a blood test, which confirmed the aromatase problem. I then took the information to my doctor, who agreed to write the necessary prescription for the compounding pharmacy across the street. There was an immediate and dramatic turnaround in my bone density, especially of the spine. You can see the results on the graph below of my spinal bone density: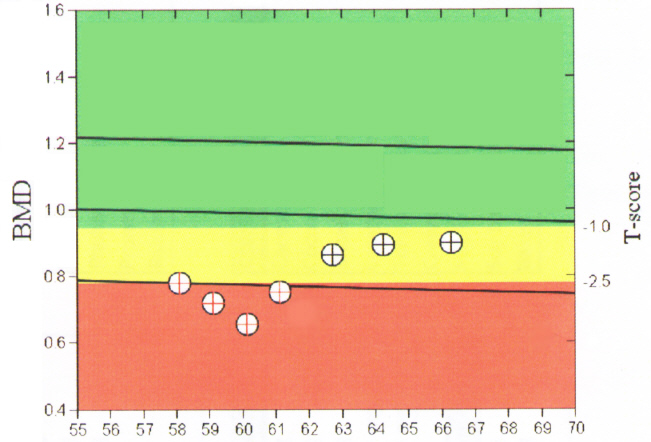 In the first three DEXA scans of my spine, I was taking Boniva, but still losing bone density rapidly and heading for an early residency in the nursing home. Now, after a continued dramatic turnaround, my spinal bone density is still a bit low, but it is well on its way to normal. Because of the softening of my spinal vertebrae during those years, I lost more than an inch in height; but I didn't suffer any spinal curvature or broken bones or any other adverse effects. I still frequently work on high mountaintops and sometimes carry heavy loads on icy slopes.
---
Life Extension: I've been an experiment-in-progress in life extension and anti-aging medicine for most of my life. Many advanced techniques in preventive medicine have a good scientific basis, but are seldom used. By the time I was 20, I had decided that it was time to make a real effort to prevent the deterioration of the aging process. I also realized then that I was living in a time when such an effort might really pay off -- and it has.

In 1981, I stepped up my personal life extension to a point that requires regular medical supervision. An important method of life extension is maintaining one's hormone and enzyme levels at what would be normal levels for a healthy person in his twenties. I've been taking things like DHEA, melatonin, deprenyl, testosterone, human growth hormone and pregnenolone long before most people had ever heard of them. In the past few years, I've had to scale back my life extension program quite considerably for financial reasons. (Before I make use of any potentially life-extending substance or technique, I actually read the more important research reports on the subject in legitimate medical journals -- and I get frequent medical testing). It is important to read the research at the source. Medical reporting, like all forms of science reporting in the popular media, is frighteningly awful. Even the practice of medicine, all too often, is based more on tradition than scientific evidence.
Anti-aging medicine has finally matured to the point where it is a legitimate medical specialty. Physicians who take a rigorous exam can become board-certified in anti-aging medicine.
The main problem with being an extremely early adapter of life extension technology is that having a biological age that is very different from one's chronological age does currently make a person a bit of a freak. I do hope that the rest of human civilization catches on soon to the importance of slowing or stopping the aging process. Of course, the full capability of slowing or stopping biological aging is not here yet, but it may soon be within our reach if people are willing to grasp it. If people are not willing to grasp it, we may soon be faced with the necessity of converting our shopping malls into supermassive nursing homes. Your choice.
---